Review Process
Review Process Details
Plants and Ecosystem follows double-blind peer review process, where the identity of both the reviewers and the authors are unknown to each other. Thus, the process ensures every possibility in impartiality and helps every manuscript to get unbiased reviews. This journal is committed to maintain fairness in every step of manuscript evaluation.
Initial Screening
Upon reception of a manuscript, our editorial staffs will screen the manuscript for journal's formatting or styles, aims and scopes, and plagiarisms. If the article is not up to the standard of Plants and Ecosystem, the manuscript will be returned to the corresponding author for corrections. If everything found okay then the manuscript will be forwarded to a relevant or most relevant editorial member to check the research originality and potential impacts of the findings. Moreover, the editorial member also will check the tables and figures along with methodology and the English language quality before taking primary decision. Primary decision is made based on the assessments of editorial member. Primary decision means the acceptance for further reviewing or rejection. However, authors can visit the publisher's editing service for scientific proofreading or language editing services.
Peer Review
During submission, the authors are suggested to include at least 2 reviewers who can evaluate the manuscript. The author recommended reviewers should not be collaborators, previous co-authors with the corresponding author. They should be from another institution with their own institutional email address. The journal may or may not contact the suggested reviewers for the manuscript but it will definitely enrich our reviewer database. Our editorial staffs will prepare the manuscripts for blind review assigned with an identity number for all manuscripts before sending to reviewers. However, finally a manuscript will get two reviewers comments along with two separate review reports from each reviewer. Authors will get manuscript feedback with review comments if corrections or revisions are required. The final decision or editorial decision will be made by editorial board after evaluating the review comments, review reports and revision, if applicable.
Review Flow
Submission to acceptance/Rejection the following flow is handled by this journal.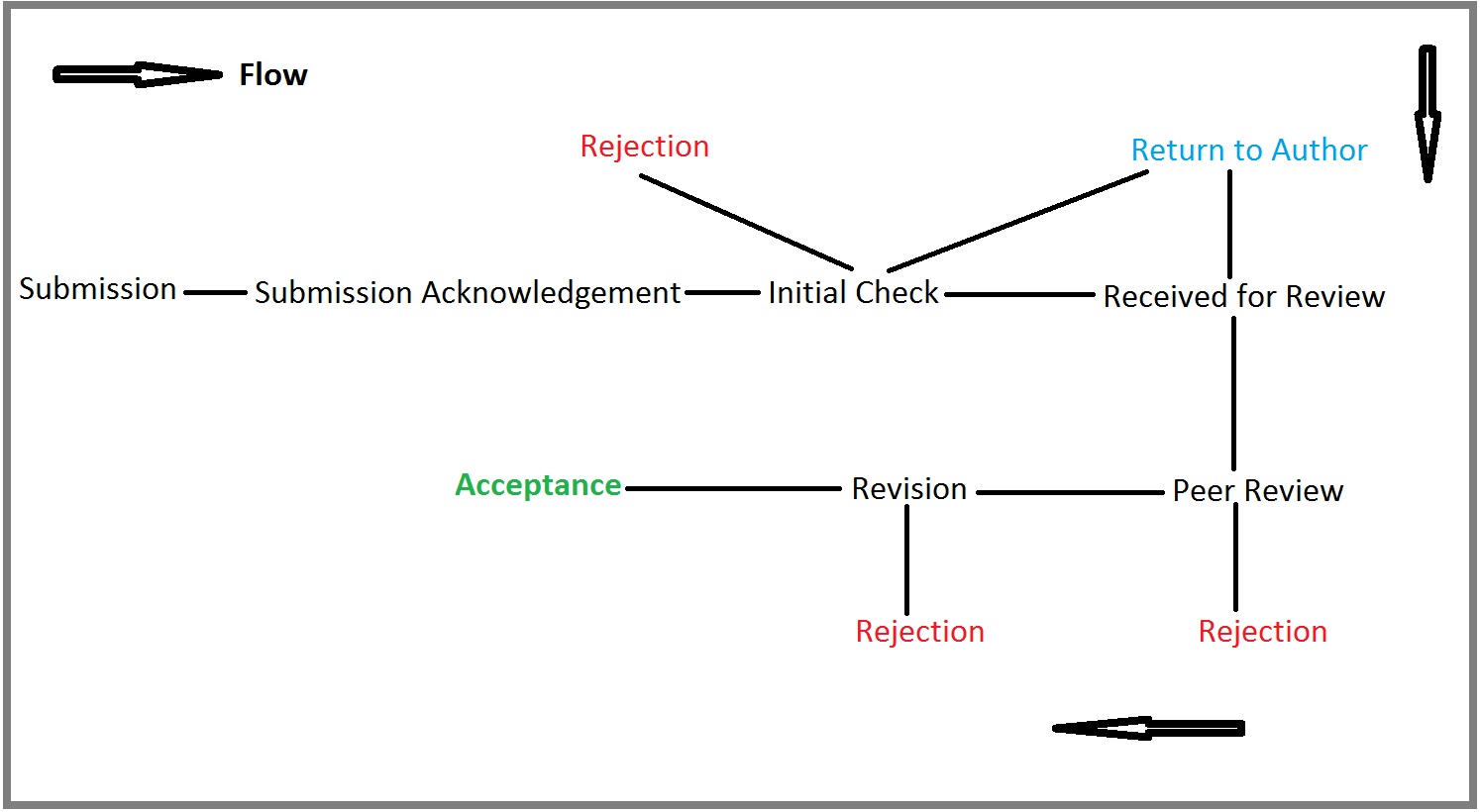 Note: If you have any complaints against review process or review comments, kindly contact with the Editor-in-Chief.